Pre-development services that ensure
project success

from day one.
In today's environment, the complex challenge of getting a project off the ground successfully requires a coordinated team effort, thorough planning, and accountable leadership. CM&D offers vital pre-construction services whereby the critical aspects of the project are identified, documented, and managed. Through careful program management, our team establishes the owner's goals and objectives for budget, schedule, design, function, and quality. These become the anchors that guide the decision-making process through the entire design and construction process. CM&D's team of experts prepare critical path schedules, detailed budgets, cash flow projections, and identify long lead items. The bottom line? CM&D insures that the anticipated project goals become reality.
These services include Due Diligence, Entitlements, and Planning.
Download Our Corporate Brochure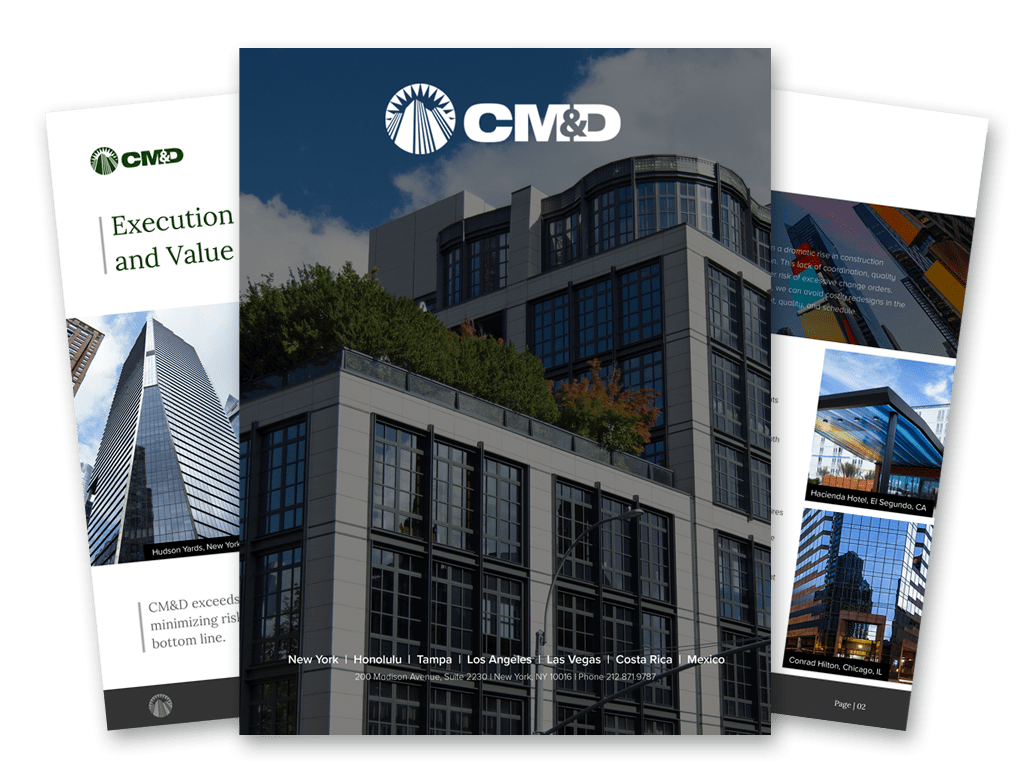 Learn about our company, our services and representative projects. Download the brochure today!
At the front end, CM&D can provide developers and capital market clients invaluable assistance through realistic project feasibility assessment, development strategy, and planning. The CM&D support staff prepares entitlement assessments, budgets, cash flows, and schedules for in-depth project analysis and evaluation.
Organizational / Asset Needs Assessment
Program / Project Delivery Analysis
Program Requirements / Development
Feasibility
Ka Makana Ali'i, Kapolei, HI
Job Awarded: May 2015
Project Value: $500M / $250M – Phase 1
View Project Details
CM&D's experienced professionals conduct a thorough review of entitlements and the budgets for design development and construction of the project. CM&D verifies the accuracy, logic, and realism of the project schedule as it relates to the design development phase, the construction phase, and overall project duration.
Overall Entitlement Process Advisory
Zone Change Processing
Environmental Impact Coordination
Demolition and Building Permit Processing
Drainage and Erosion Control
Tranquilo Residential Community, Punta Leona, Costa Rica
Job Awarded: August 2016
Project Value: $20M
View Project Details
Program management is a partnership with the Owner and CM&D that stimulates effective, cost-efficient and superior project delivery. Acting as an extension of ownership, the Program Manager protects the clients in all areas of project implementation from planning and design, through procurement and construction and into operations and maintenance.
Risk Management Analysis
Determination of Goals and Objectives
Needs Assessment and Concept Formation
Program Development with Scope of Work Definition
Site Analysis, and Feasibility Studies Coordination
Cost Estimating and Management
Preliminary Budgeting
AMAN Costa Rica Resort & Residences
Job Awarded: June 2015
Project Value: $167M
View Project Details
Contact us to discuss your project and how CM&D's experience and services can ensure your project's success.