Protecting your position in the capital stack while positively
facilitating the completion

of your project.
PLAN AND COST REVIEW AND CONSTRUCTION LOAN MONITORING
CM&D has served the real estate capital markets for over three decades, assisting institutional investors and lenders with the evaluation of existing, under development and to-be-developed real estate assets. 
These services include Budget Evaluation, Contract Compliance, and Monthly Construction Oversight.
Download Our Corporate Brochure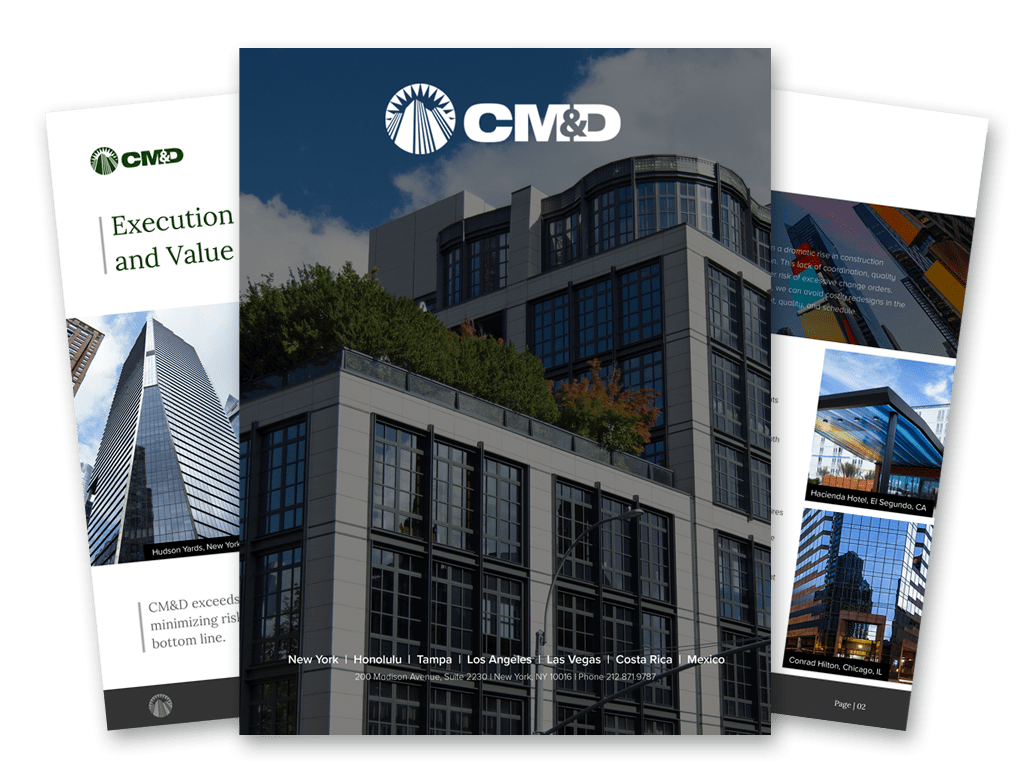 Learn about our company, our services and representative projects. Download the brochure today!
CM&D evaluates a project prior to the start of construction, assisting the real estate capital markets in understanding the complex nature of construction projects and mitigating the risks of lending to projects with unrealistic timelines and costs.
Assessment of the Development Team
Budget Review
Cost Estimate Review
Evaluation of the Project Schedule
Contract Compliance
Permit Status
Full Report of Potential Risks and Recommendations

US Map - Capital Services
Lender's Advisor: CM&D mitigates the risk on construction projects for the Capital Markets
With a history of industry knowledge and expertise, CM&D provides technical services to the capital markets.  These include assessing projects which are seeking equity and monthly oversight of projects which have secured loans. Our services include a review of the background and experience of the developer, the overall development plan, the breadth of the development and construction team. We review the proposed construction schedule, associated budget and due diligence documents. Once funded, CM&D has project managers who also work in the industry, serving as the Lender's Advisor, by monitoring the progress of construction and any critical path items which may delay the project or affect its cost.
CONSTRUCTION LOAN MONITORING
Once a project is funded, CM&D monitors the progress of construction through detailed reporting and photographic documentation. Payment applications are reviewed to assess the accuracy of the funding request each month and includes change orders and lien waiver reviews.
Monthly Site Visit
Review of General Contractor's Monthly Progress Report
Change Order Evaluation
Review of Borrower's Funding Request
Assessment of Payment Application Against Onsite Work
Detailed Monthly Report with Executive Summary
Project management issues can occur at any time during a construction project. Project goals may be inadequately defined. Poor communication, unrealistic deadlines as well as extending the project's scope beyond the original objectives could stall a project and make it difficult to discover the root cause of the problem. CM&D can identify the key issues of distressed projects and provide the direction needed to make the critical decisions for the project. Once the go-forward strategy is established, we monitor and measure the progress of the project to ensure your goals are met through the completion of the project.
Site Observations and Project Assessment
Consultant Contracts Review
Draw Requests Review
Cost-to-Complete Analysis
Detailed Go-Forward Strategy with Recommendations
Contact us to discuss your project and how CM&D's experience and services can ensure your project's success.