Protecting your position in the capital stack while positively
facilitating completion

of the project.
CAPITAL RAISE AND EXECUTION SERVICES
CM&D has served the real estate capital markets for over 30 years, assisting institutional investors and lenders with the evaluation of existing, under development and to-be-developed real estate assets. CM&D has continued success in creating marriages between its two core clientele, bringing capital sources to top tier developments.
These services include Capital Raising, Marketing & Roadshow Preparation, and Capital Market Services.
Download Our Corporate Brochure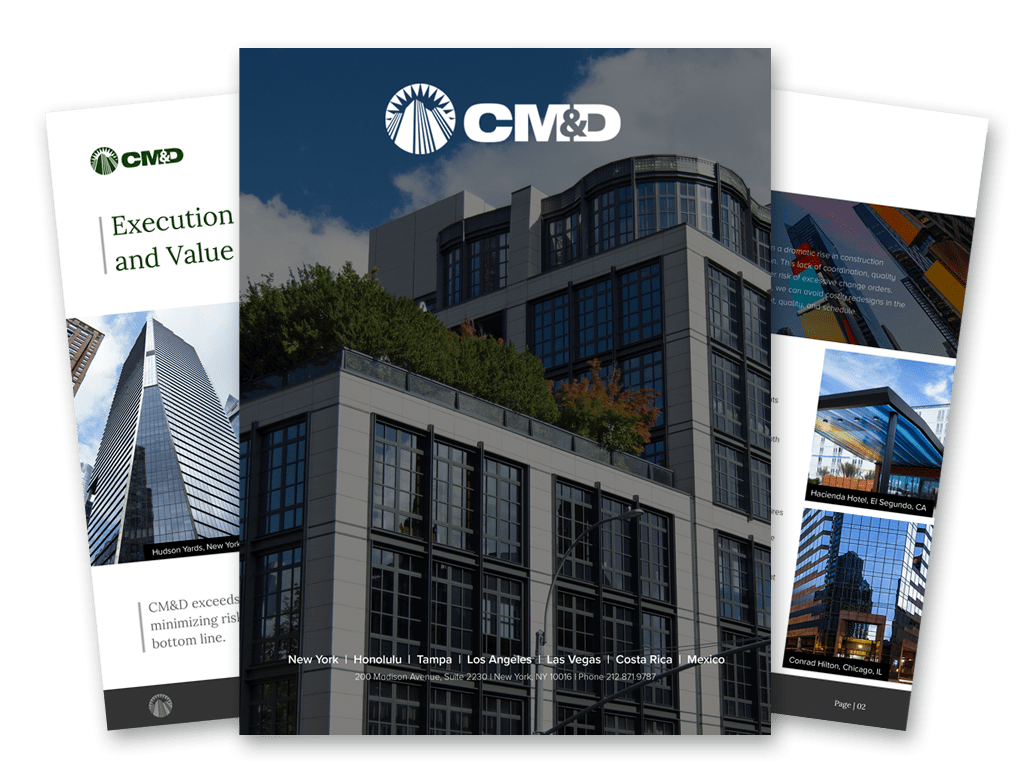 Learn about our company, our services and representative projects. Download the brochure today!
CM&D has served the real estate capital markets for 30 years, uniquely positioned to assist institutional investors and lenders with the evaluation of real estate assets and performance thresholds in the development industry.
Acquisition Conditions Reporting
Due Diligence Reporting for All New Development Projects
Design Evaluation
Independent Assessment of Acquisition and/or Developments
Monthly Oversight on Construction
Asset Recovery
Assumption of Project Responsibilities
The Riverhouse At 16-17 Battery Park, New York, NY
Job Awarded: 2007
Project Value: $400M
View Project Details

US Map - Capital Services
Lender's Advisor: CM&D mitigates the risk on construction projects for the Capital Markets
With a history of industry knowledge and expertise, CM&D provides technical services to the capital markets.  These include assessing projects which are seeking equity and monthly oversight of projects which have secured loans. Our services include a review of the background and experience of the developer, the overall development plan, the breadth of the development and construction team. We review the proposed construction schedule, associated budget and due diligence documents. Once funded, CM&D has project managers who also work in the industry, serving as the Lender's Advisor, by monitoring the progress of construction and any critical path items which may delay the project or affect its cost.
Because of CM&D's extensive experience in the development industry and its many years of service to the capital markets, we have a unique understanding of the information and performance thresholds the capital markets need to see in order to justify a debt or equity investment into a project. We are ideally suited and positioned to assist our clients and their loan brokers in establishing workable, effective debt and equity strategies.
Financial Modeling and Budgeting
Creation of the Books to Request Debt and Equity
Strategies as to Sourcing Appropriate Investors
Total Project Budgeting and Cash Flow Analysis
Assistance in Introducing Probable Lenders and Equity Investors
Assistance in Creating Strategic Financial Structures
MARKETING / ROADSHOW PREPARATION
Any missing component renders the loan presentation an incomplete package and generally results in the failure to secure financing. A proper financing package at the front end saves substantial amounts of valuable time and grief during the long run of the development cycle. CM&D can assist in ensuring a professional and executable financial platform for your proposed development.
Background and Experience of the Client
Financial Capacity of the Developer and Partners
Overall Development Plan
Overall Execution Plan
Financial Model
Development Team (Breadth, Quality & Experience)
Sales, Leasing, Marketing Plan
Entitlements
Legal and Accounting
Contact us to discuss your project and how CM&D's experience and services can ensure your project's success.